Skal bygge Oslo som energihovedstad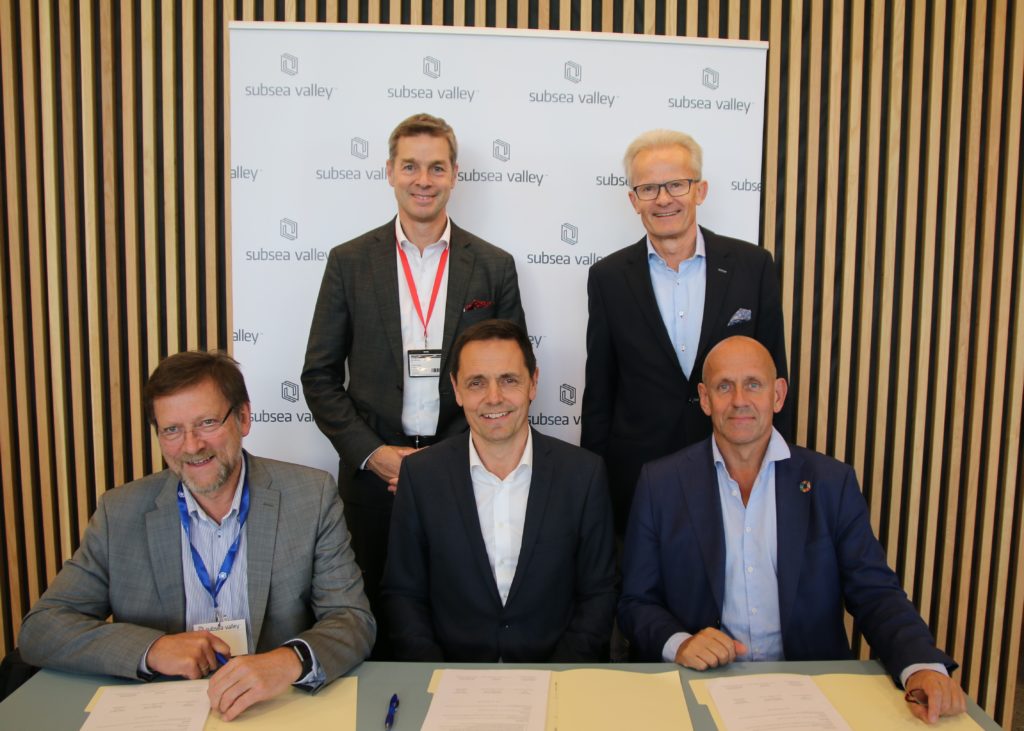 De tre industriklyngene Subsea Valley, NCE Smart Energy Markets og Solenergiklyngen, og de tre akademiske institusjonene UiO:Energi, BI og Institutt for Energiteknologi (IFE), har signert en samarbeidsavtale. Ambisjonen er at Oslo-regionen skal bli en global energihovedstad.
«Vårt mål er å skape et verdensledende økosystem for energi rundt Oslo. Da må industri og akademia dra i samme retning, og denne avtalen legger til rette for et slikt samarbeid», sier Preben Strøm, daglig leder i Subsea Valley.
Samarbeidsavtalen er en MoU («Memorandum of Understanding») og ble signert i Subsea Valleys kontorer på Fornebu 10 oktober. Den overordnede ambisjonen er «Bringing pioneers and enablers of the global energy transition together. Creating an eco-system for energy business and technology in the capital region of Norway». Potensielle aktiviteter og initiativer er allerede i støpeskjeen og inkluderer blant annet etablering av konsortium for Sentre for Forskningsdrevet Innovasjon (SFI) og faste møteplasser for næringsliv og akademia.
«Subsea Valley har i flere år jobbet for å knytte industri og akademia tettere sammen. Vi er veldig fornøyde med at vi nå, sammen med noen av de viktigste industrimiljøene og akademiske institusjonene på energifeltet i Norge, har fått på plass et formalisert samarbeid», sier Preben Strøm.
Avtalen trådte i kraft med umiddelbar virkning og har i første omgang en varighet på fem år.
Om Subsea Valley:
Subsea Valley er Norges største næringsklynge for engineering- og teknologibedrifter i energibransjen, med tyngdepunkt på Østlandet. De omtrent 200 klyngemedlemmene skaper merverdier på over 50 milliarder kroner i året og sysselsetter mer enn 31 000 mennesker.
Ved å tilby en infrastruktur for samarbeid, innovasjon, og kunnskapsoverføring, hjelper vi våre medlemmer og partnere å tilpasse seg, dra nytte av, og bidra til en energibransje i rask endring.
Subsea Valley ble i 2017 tildelt status som Norwegian Centre of Expertise (NCE) i energiteknologi av norske myndigheter. I 2018 ble klyngen også sertifisert i henhold til EUs høyeste kvalitetsstandard for klynger (Cluster Organisation Management Excellence Label (Quality Label) GOLD).
For mer informasjon, kontakt:
Hedda Bull-Hansen Sarhan
Kommunikasjonssjef Subsea Valley
Tlf: +47 988 42 705